Non-Emergency Medical Transportation
We can pick up the Bride and her party and take them to the Ceremony where we roll out the red carpet and escort the bride inside. 
Take our passenger Limo bus to your next concert or casino run!
A private shuttle airport service providing an economical way to travel to Manchester, Hartford or Boston Airports.
Get your student to and from school safely and with ease! 
Our wheelchair van or sedan vehicles provide non-emergency transportation service for medical, doctor and dentist appointments.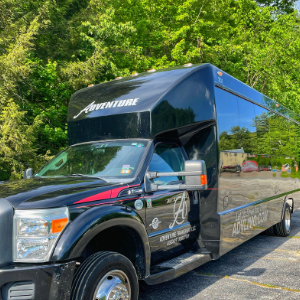 ABOUT ADVENTURE LIMOUSINE
Adventure Limousine and Transportation provides transportation for every occassion. We provide private car transportation to Manchester, Logan, Bradley, Newark, and JFK Airports, Cruiseports, – even Albany, Providence, and Burlington are not too far. Limousines for every occasion – Weddings, Bachelor/Bachelorette Parties, Proms, Children's Birthday Parties and Birthdays for all ages, Shopping trips with our Mall package, Concert & Sporting event packages all year round, and when you are feeling lucky – head off to the Casino in one of our super stretched limousines, limo buses, or climb aboard one of our wheelchair vans with a couple of close friends! We are available 24/7 and happy to help create memories to last a lifetime. Life is an Adventure, let us drive you there.
COURIER SERVICE, NON-EMERGENCY MEDICAL APPOINTMENT TRANSPORTATION
GET OUR SPECIAL EVENTS RIGHT TO YOUR INBOX
I moved to Keene about a year and a half ago – Since then have been using the Taxi Service around town at various times of day & early evenings. I have been very happy with the overall service from not only Drivers – but the Office Staff is very caring and always looking out to make sure I make it to my appointments on time! When I can – to help I book in advance – and now it's even easier because I can text my reservation directly to the office 24/7. I am thrilled that Adventure Limousine is doing what they can to help people move around the community – and making it as easy as possible for us to do so – and it provides written confirmation for my record keeping – so I always have my pricing at my fingertips – TO ALL OF ADVENTURE… Please know I, as a new member of Keene – THANK YOU FOR ALL YOU DO!
You guys were lifesavers when the world needed saving! Thank you for all our cooperation. We certainly have your contact information in several places on our website. I distribute it as well to any parents who call seeking transportation. Let's hope we don't have to revisit the state of emergency once more, but if we do, I know I can count on you.
Hi, I just wanted to write to you and tell you what a Great guy Erik is! I recently was the afternoon bus monitor for a special needs girl. Erik was easy to talk to so friendly and very compassionate towards our student. He was a great driver very attentive. I'm sad that the school went with another company because I think we were a great fit with the student. Will miss him! 5 stars to Erik!