JOIN OUR TEAM!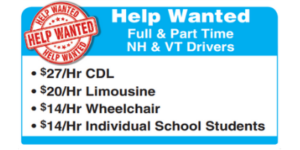 Available Driving positions:   
Non-Emergency Medical
Wheelchair Van
Black Car Airports
Student Transportation,
Shuttle van
Taxi
Limousine and Antique vehicles.
 CDL Passenger/Air Brake for Coach busses
Customer Service Rep.  Answering phones, helping Customers and Drivers, using computers for reservations.
Administration Assistant:  working with the General Manager and the Owners of the Company. Must be very detail oriented.
Billing/Payroll Clerk:     Answering phones, Billing customers, maintain accurate files, Quick books payroll experience,
 Trip Scheduler; scheduling Drivers and daily trips.
Vehicle Maintenance :  Repairing all types of fleet vehicles
Vehicle Detailer: Cleaning inside and out all types of vehicles.
Building Maintenance and Grounds Person:  Must have a good background in maintaining Buildings and outside grounds.